PARADIGM SURE-T™ INFUSION SET 29G ,10MM/32" LENGTH, 10/BOX
Preferred Product
Prescription Required
Click image to enlarge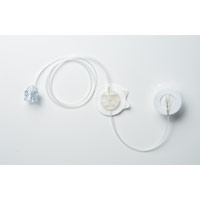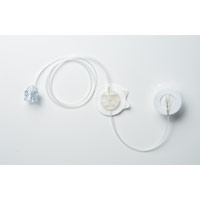 Description
The Sure-T Paradigm Infusion set is ideal for people who have had reactions to plastic cannulas or who have not had success with plastic cannulas.
The Sure-T is inserted manually and has two adhesive pads to provide extra protection against needle dislodging
90-degree steel needle insertion
Available in either 6mm, 8mm, or 10mm steel needle
Warranty Information
Warranty: Infusion Sets and ReservoirsMedtronic MiniMed, Inc. warrants its infusion sets and reservoirs against defects in materials and workmanship for the period up to 3 days a fter the individual reservoir/infusion set sterile packaging has been opened, not to exceed 6 months from date of shipment of the infusion set or reservoir to the end user (the "Warranty Period").During the Warranty Period, Medtronic MiniMed, Inc. will replace any defective reservoir or infusion set, subject to the conditions and exclusions stated herein. This warranty is valid only if the Medtronic MiniMed, Inc. infusion sets and reservoirs are used in accordance with the manufacturer's instructions. This warranty will not apply: • If the infusion set or reservoir has been used for more than a single-time use by a single end-user;• If damage results during the improper opening of the sterile package not in conformance with the procedures outlined in the Instructions for Use;• If the sterile package is compromised while in the control of the user by any means other than purposefu l opening by the user at the time of intended product use;• If damage results from changes or modifications made to the infusion set or reservoir by the user or third persons aft er the date of manufacture;• If damage results from the use of non-Medtronic MiniMed infusion sets or reservoirs with a Medtronic MiniMed insulin pump;• If damage results from service or repairs performed to any part of the infusions set or reservoir by any person or entity other than the manufacturer;• If damage is caused by use of the reservoir or in fusion set with any non-Medtronic MiniMed insulin pump;• If damage results from a Force Majeure or other event beyond the control of the manufacturer; or• If damage results fro m negligence or improper use, including but not limited to improper storage or physical abuse such as dropping or otherwise.This warranty shall be personal to the original purcha ser. Any sale, rental or other transfer or use of the product covered by this warranty to or by a user other than the original purchaser shall cause this warranty to immediately terminate. This warranty does not apply to insulin pumps, batteries, and other accessories.THE REMEDIES PROVIDED FOR IN THIS WARRANTY ARE THE EXCLUSIVE REMEDIES AVAILABLE FOR ANY B REACH HEREOF. NEITHER MEDTRONIC MINIMED NOR ITS SUPPLIERS OR DISTRIBUTORS SHALL BE LIABLE FOR ANY INCIDENTAL, CONSEQUENTIAL, OR SPECIAL DAMAGE OF ANY NATURE OR KIND CAUSED BY OR ARISING OUT OF A DEFECT IN THE PRODUCT. ALL OTHER WARRANTIES, EXPRESS OR IMPLIED, ARE EXCLUDED, INCLUDING THE WARRANTIES OF MERCHANTABILITY AND FITNESS FOR A PARTICULAR PURPOSE.