MiniMed™ 3.0mL Reservoir (10/box)
Prescription Required
Click image to enlarge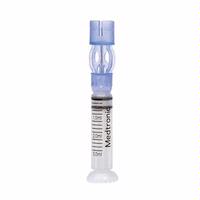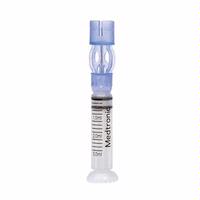 Description
Optimal Insulin Storage and Delivery
The MiniMed™ 3.0mL Reservoir is designed to meet the needs of insulin pump users seeking efficient and reliable insulin management. With its generous 3.0mL capacity, this reservoir provides ample space to store insulin for multiple days, reducing the need for frequent refills. The clear design allows for easy monitoring of insulin levels, ensuring you have a clear view of the remaining supply. The reservoir is compatible with various MiniMed™ insulin pumps, facilitating seamless and accurate insulin delivery.
Convenient and Secure Packaging
The MiniMed™ 3.0mL Reservoir comes in a box containing 10 individual reservoirs, providing a convenient and organized storage solution. Each reservoir is individually packaged, maintaining its sterility until ready for use. This packaging ensures the integrity of the insulin and offers peace of mind for pump users. The compact size of the individual reservoirs makes them easy to carry and travel with, allowing you to manage your insulin needs wherever you go.
Trusted Quality and Reliability
The MiniMed™ 3.0mL Reservoir is crafted with precision and reliability in mind. Manufactured by a trusted brand in diabetes care, these reservoirs undergo rigorous quality control measures to ensure consistent performance. The reservoirs are made from durable and safe materials, providing you with confidence in the storage and delivery of your insulin. With the MiniMed™ 3.0mL Reservoir, you can rely on the trusted quality and reliability of a respected brand for your insulin management needs.
Warranty Information
Warranty: Infusion Sets and ReservoirsMedtronic MiniMed, Inc. warrants its infusion sets and reservoirs against defects in materials and workmanship for the period up to 3 days after the individual reservoir/infusion set sterile packaging has been opened, not to exceed 6 months from date of shipment of the infusion set or reservoir to the end user (the "Warranty Period").During the Warranty Period, Medtronic MiniMed, Inc. will replace any defective reservoir or infusion set, subject to the conditions and exclusions stated herein .This warranty is valid only if the Medtronic MiniMed, Inc. infusion sets and reservoirs are used in accordance with the manufacturer's instructions. This warranty will not apply :• If the infusion set or reservoir has been used for more than a single-time use by a single end-user;• If damage results during the improper opening of the sterile package no t in conformance with the procedures outlined in the Instructions for Use;• If the sterile package is compromised while in the control of the user by any means other than purpose ful opening by the user at the time of intended product use;• If damage results from changes or modifications made to the infusion set or reservoir by the user or third persons a fter the date of manufacture;• If damage results from the use of non-Medtronic MiniMed infusion sets or reservoirs with a Medtronic MiniMed insulin pump;• If damage results fro m service or repairs performed to any part of the infusions set or reservoir by any person or entity other than the manufacturer;• If damage is caused by use of the reservoir or infusion set with any non-Medtronic MiniMed insulin pump;• If damage results from a Force Majeure or other event beyond the control of the manufacturer; or• If damage results f rom negligence or improper use, including but not limited to improper storage or physical abuse such as dropping or otherwise.This warranty shall be personal to the original purc haser. Any sale, rental or other transfer or use of the product covered by this warranty to or by a user other than the original purchaser shall cause this warranty to immediately terminate. This warranty does not apply to insulin pumps, batteries, and other accessories.THE REMEDIES PROVIDED FOR IN THIS WARRANTY ARE THE EXCLUSIVE REMEDIES AVAILABLE FOR ANY BREACH HEREOF. NEITHER MEDTRONIC MINIMED NOR ITS SUPPLIERS OR DISTRIBUTORS SHALL BE LIABLE FOR ANY INCIDENTAL, CONSEQUENTIAL, OR SPECIAL DAMAGE OF ANY NATURE OR KIND CAUSED BY OR ARISING OUT OF A DEFECT IN THE PRODUCT. ALL OTHER WARRANTIES, EXPRESS OR IMPLIED, ARE EXCLUDED, INCLUDING THE WARRANTIES OF MERCHANTABILITY AND FITNESS FOR A PARTICULAR PURPOSE.
Included In Kit
10 MiniMed™ 3.0mL Reservoir (10/box)
Can be used with all MiniMed infusion sets
User filled
Hold up to 300 units of insulin