Minimed Guardian Sensor 3 for Minimed 770G
Prescription Required
Click image to enlarge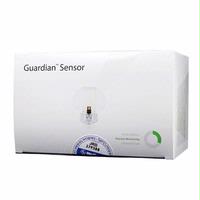 Description
Accurate and Reliable Continuous Glucose Monitoring

Stay on top of your diabetes management with the Guardian Sensor 3 for the MiniMed® 770G system. This advanced sensor offers accurate and reliable continuous glucose monitoring (CGM) to help you make informed decisions about your insulin therapy. The Guardian Sensor 3 utilizes cutting-edge technology to deliver precise glucose readings, allowing you to closely monitor your blood sugar levels throughout the day and night. With its improved sensor performance, you can have confidence in the accuracy of your readings, providing you with the necessary information to adjust your insulin doses and manage your diabetes effectively.

Convenient Box with Five Sensors Included
The Guardian Sensor 3 package for MiniMed® 770G comes with five sensors, ensuring you have an ample supply to last you for a considerable period. Each sensor is designed for easy and hassle-free insertion, thanks to the included sensor insertion device and serter. The package also includes adhesive patches to securely affix the sensors to your skin, promoting stability and longevity. With the convenience of having multiple sensors in one box, you can seamlessly transition from one sensor to another without worrying about running out. This feature makes the Guardian Sensor 3 package a cost-effective and practical choice for individuals managing diabetes.

Compatibility with MiniMed® 770G Insulin Pump System
The Guardian Sensor 3 is specifically designed for use with the MiniMed® 770G insulin pump system, ensuring seamless integration and optimized performance. This compatibility allows for direct communication between the sensor and the insulin pump, enabling real-time updates and adjustments to your insulin therapy. With the Guardian Sensor 3, you can experience the benefits of closed-loop insulin delivery, where the sensor data is used to automatically adjust your insulin delivery based on your glucose levels. This integrated system streamlines diabetes management, offering convenience, precision, and peace of mind.
Features
Accurate glucose monitoring for precise diabetes management and control.
Continuous and real-time glucose readings for immediate awareness and action.
Improved sensor performance ensures reliable and consistent glucose measurements.
Convenient box includes five sensors for an extended supply duration.
Hassle-free insertion and secure attachment with included insertion device and adhesive patches.
Seamless compatibility with the MiniMed 770G insulin pump system for integrated diabetes care.
Enables closed-loop insulin delivery for automatic adjustments based on glucose levels.
Specifications:
Adjustable Settings: No
Alerts & Alarms: No
Automatic Shutoff: No
Calibration Required: Yes
Compatible with Insulin Pump: No
Data Sharing Capable: No
Integrated Continuous Glucose Monitor: No
Memory: 10 hours with transmitter
Smart Phone App Available: Yes
Software Reporting: No
Warm-up Period: up to 2 hours
Bolus Calculator: No
Battery Included: No
Age Indication: 14-75 years of age
Sterile: No
Latex- Free: Yes
CA Prop 65 Warning: No"
Included In Kit
5 pack of Medtronic Guardian Sensor 3 for Minimed 770G
Sensor adhesive patches

Sensor insertion device
Advanced glucose monitoring for Medtronic MiniMed® 770G.
Guardian Sensor 3 provides accurate and reliable readings.
Improved sensor performance for enhanced diabetes management.
Convenient box with five sensors included.
Compatible with MiniMed® 770G insulin pump system.