FREESTYLE LITE BLOOD GLUCOSE MONITORING SYSTEM, RETAIL
Preferred Product
Over-the-Counter
Click image to enlarge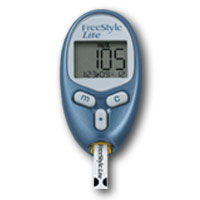 Description
The small, discreet FreeStyle Lite system enables you to manage your diabetes simply by offering key features such as no coding, the world's smallest blood sample size, a backlight and a test strip port light.
Directions
Insert a FreeStyle Lite Test Strip into the meter until it stops. The meter will power on. The Blood Drop and Test Strip symbols will appear on the display screen. Your meter is now ready to apply blood sample.Select a test site. There are differences in testing on fingers versus other alternative sites. Use your lancing device to obtain a blood sample. Refer to the Lancing Device insert for detailed instructions on how to use the FreeStyle Lancing Device. Make sure that the FreeStyle Lite Test Stripis in the meter and the meter is powered on. (If the meter is off, take out the test strip and reinsert it into the meter.) You are now ready to apply the blood sample. Bring the FreeStyle Lite Test Strip to the blood sample at a slight angle. The FreeStyle Lite Test Strip acts like a sponge and pulls the blood into the strip through the sample area. Do not pull the FreeStyle Lite Test Strip away until you hear one beep or see the short line moving clockwise on your meter screen. This means you have enough blood and the meter is reading your glucose, If after five seconds your meter does not show a short line moving around the display screen, the sample may be too small. You may add blood to the same sample area of the test strip from which you started for up to 60 seconds from the time of the first application. The test result is complete when your blood glucose test result is shown on the display screen and you will hear two beeps. On average, your reading will display in five seconds. The time that the meter takes depends on your blood glucose level. The higher your glucose level, the longer it takes to get a result.
Warnings and Precautions
The FreeStyle Lite System contains small parts that may be dangerous if swallowed. Peritoneal dialysis solutions containing Icodextrin or compounds of Galactose ≥13 mg/dL,Maltose ≥20 mg/dL or Lactose ≥10 mg/dL cause the FreeStyle Lite Blood Glucose Monitoring System to overestimate blood glucose test results.
No coding - One less step
World's smallest sample size - Less pain with proven accuracy
Small meter for discreet testing
Both backlight and port light - Test even in low light