FREESTYLE FREEDOM LITE BLOOD GLUCOSE MONITORING, 1-KIT NFR
Preferred Product
Over-the-Counter
Click image to enlarge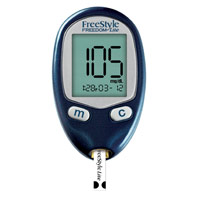 Description
The easy-to-read, easy-to-hold FreeStyle Freedom Lite® blood glucose monitoring system. With an ergonomic shape and large numeric display, the FreeStyle Freedom Lite meter is ideal for those looking for simple and accurate testing. Also, no coding and the world's smallest blood sample size requirement means easy testing on the go. The FreeStyle Freedom Lite meter uses only FreeStyle Lite blood glucose test strips.
Features
No Coding. Reminder Alarms. Large display and Clear Numbers. Curved Ergonomic Shape. World's Smallest Sample Size.
Warranty Information
5 Years Lifetime Warranty when enrolled in Abbot Friends for Life program.
Included In Kit
FreeStyle Freedom Lite Meter, 10 FreeStyle Lite Test Strips, Sterile FreeStyle Lancets (10 Count), FreeStyle Lancing Device with Clear Cap (for testing sites other than the finger), Blue Cap for Lancing Device (for finger testing), Carrying Case, Owner's Booklet, Getting Started Guide, Daily Log, Warranty Registration Card, One #2032 battery (3 volt Lithium replaceable), $40 Mail-In Rebate.
For Insurance Assignment Only, Not for Retail Sales
No coding means one less step
Less Pain: World's smallest sample size
Comfortable, easy-to-hold monitor with the largest numeric display
Fewer wasted test strips: ability to add more blood for up to an entire minute