ONETOUCH® ULTRA® BLUE TEST STRIPS, 50/BOX, RETAIL
Over-the-Counter
Click image to enlarge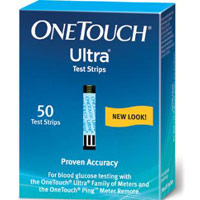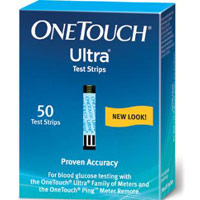 Description
The OneTouch® Ultra® Test Strips with FastDraw™ Design make blood glucose testing fast, easy, and less painful* for anyone with diabetes. The OneTouch® Ultra® Meter gives results in just 5 seconds and requires just a speck of blood. That can mean less pain when you test on your fingers or arm.* Just touch the end of the test strip to your blood sample. The test strip automatically draws up blood and makes it easy to see when there's enough blood for an accurate reading. Use this test strip with OneTouch® Ultra®, OneTouch® UltraSmart®, and InDuo® Meters.
Directions
Store the test strip package in a cool, dry place not above 86°F (30°C). Keep away from direct sunlight and heat. Do not refrigerate. Store your test strips in their original vial only; do not transfer them to a new vial or any other container. After removing a OneTouch Ultra FastDraw Design Test Strip from the vial, immediately replace the vial cap and close it tightly. Use each test strip immediately after removing it from the vial. Write the discard date on the vial label when you first open it. Discard remaining OneTouch Ultra FastDraw Design Test Strips 3 months after first opening the vial. Avoid getting dirt or food on the top white edge. Do not use test strips beyond the expiration date printed on the package. Do not bend, cut, or alter OneTouch Ultra FastDrawDesign Test Strips in any way.
The OneTouch Ultra Meter and InDuo System read the glucose level of a whole blood sample on a OneTouch Ultra FastDraw Design Test Strip.
The OneTouch Ultra meter and InDuo System provide plasma-calibrated results to allow easy comparison with laboratory methods.
For testing outside the body (in vitro diagnostic use).