FREESTYLE TEST STRIPS, 50/BOX, NOT FOR RETAIL
Preferred Product
Over-the-Counter
Click image to enlarge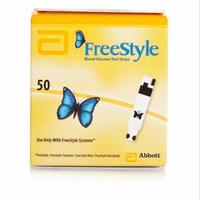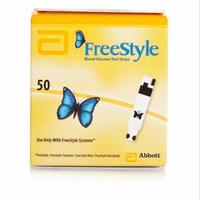 Description
New and Improved Test Strips!

New ZipWick™ tabs make blood application easier and blood uptake faster
New GDH-FAD chemistry- Minimizes interference from 22 common substances including maltose and galactose
The benefits of our previous FreeStyle® brand test strips will continue to be enjoyed by customers:
Smallest sample size- only 0.3 microliter
Ability to reapply sample- up to 60 seconds- means fewer wasted strips
FreeStyle blood glucose test strips are intended for use with FreeStyle, FreeStyle Flash and FreeStyle Freedom Blood Glucose Monitoring Systems. These blood sugar meters combine a large display screen with an ergonomic design for testing that is easy on your hands and eyes. FreeStyle glucose testing products offer the latest in technology to make managing your diabetes easier than ever. Package includes 1 vial of 50 test strips.
Warnings and Precautions
Note: For In Vitro diagnostic use only.
Smallest Sample Size- FreeStyle diabetes test strips were designed to prevent sore fingers by requiring a tiny blood sample- you need only a 0.3 microliter blood sample
Coulometry Measurement- Coulometric analysis is unaffected by reaction rates and is ideal for measuring a small blood sample size
Alternate Site Testing- You can also test from alternative sites, reducing the pain of repetitive testing of one site
Capillary Action - Acts like a sponge to wick the exact amount of blood needed onto the test strip
15 Second Test Results- Accurate blood glucose results are available in merely 15 seconds