FREESTYLE LIBRE 2 READER DEVICE
New Product
Prescription Required
Click image to enlarge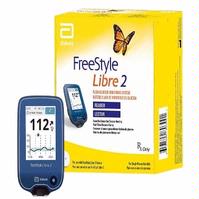 Description
Get the complete picture of your glucose levels, not just a moment in time.
The Reader can store approximately 90-days of glucose history and notes you enter about activities, such as taking insulin, eating food, or exercising.
Understand how your body responds to treatment, food, and exercise.
See patterns and trends and customize optional, real-time alarms for lows and highs.
Share insights with healthcare providers.
This information can help you understand how these activities affect your glucose. The Reader also includes a built-in meter for blood glucose testing.
Check your glucose with a painless, 1-second scan instead of a fingerstick.
Comments
*Fingersticks are required for treatment decisions when you see Check Blood Glucose symbol, when symptoms do not match system readings, when you suspect readings may be inaccurate, or when you experience symptoms that may be due to high or low blood glucose.
The Freestyle Libre 2 is the only CGM systems with real-time alarms that measures glucose levels every minute, with the highest level of accuracy standards over 14 days.
With a one-second scan using the handheld reader, users can see their glucose reading, tren d arrow and eight-hour history.
Directions
Start New Sensor with Reader
Step 1:
Press Home Button to turn on Reader.
Note: If using Reader for the first time, follow the prompts to set date and time.
Step 2:
Touch Start New Sensor.
Hold Reader within 1.5 inches (4 cm) of Sensor to scan it.
Step 3:
Review the important information on the screen. Sensor can be used to check your glucose after 60 minutes.
Check Your Glucose
Step 1:Press Home Button to turn on Reader.
Step 2:Hold Reader within 1.5 inches (4 cm) of Sensor to scan it.
Step 3:View your glucose reading of you Reader. This includes your Current Glucose, Glucose Trend Arrow, and Glucose Graph.
Setting Alarms for Your Reader
The Sensor automatically communicates with the Reader an d can give you glucose alarms. Alarms are on by default.
Step 1:
Press Home Button to go to Home Screen. Tap on Settings Icon.
Step 2:
Tap Alarms and then touch Change Alarm Settings.
Step 3:
Select and set your alarms. Touch Done to save.
Low Glucose Alarm: Notifies you when glucose is below the level you set.
High Glucose Alarm: Notifies you when glucose is above the level you set.
Signal Loss Alarm: Notifies you when Sensor is not communicating with Reader and that you are not getting Low or High Glucose Alarms.
Warnings and Precautions
Indications For Use:
The FreeStyle Libre 2 Flash Glucose Monitoring System is a continuous glucose monitoring (CGM) device with real time alarms capability indicated for the management of diabetes in persons age 4 and older.It is intended to replace blood glucose testing for diabetes treatment decisions, unless otherwise indicated.
The System also detects trends and tracks patterns and aids in the detection of episodes of hyperglycemia and hypoglycemia, facilitating both acute and long-term therapy adjustments. Interpretation of the System readings should be based on the glucose trends and several sequential readings over time.
The System is also intended to autonomously communicate with digitally connected devices. The System can be used alone or in conjunction with these digitally connected devices where the user manually controls actions for therapy decisions.
Contraindications:
Automated Insulin Dosing: The System must not be used with automated insulin dosing (AID) systems, including closed loop and insulin suspend systems.
MRI/CT/Diathermy: The System must be removed prior to Magnetic Resonance Imaging (MRI), Computed Tomography (CT) scan, or high-frequency electrical heat(diathermy) treatment. The effect of MRI, CT scans, or diathermy on the performance of the System has not been evaluated. The exposure may damage the Sensor and may impact proper function of the device which could cause incorrect readings.
WARNINGS:
Do not ignore symptoms that may be due to low or high blood glucose: If you are experiencing symptoms that are not consistent with your glucose readings, consult your health care professional.
Use your blood glucose meter to make diabetes treatment decisions when you see the symbol during the first 12 hours of wearing a Sensor, if your Sensor glucose reading does not match how you feel,or if the reading does not include a number.
Choking hazard: The System contains small parts that may be dangerous if swallowed.
A continuous glucose monitoring system FDA-approved for adults and children with diabetes, ages 4 years and above.Now with optional, real-time glucose alarms that notify you if you
go too low or too high.Unparalleled 14 day accuracy.Easily check your glucose levels with a painless one-second scan instead of a fingerstick.