V-GO™ 40 UNITS/24 HOURS, DISPOSABLE INSULIN DELIVERY DEVICE
Featured Product
Prescription Required
Click image to enlarge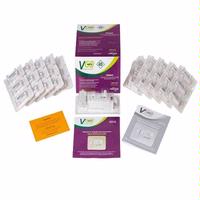 Description
The V-Go is the first simple, fully disposable device for the delivery of basal-bolus insulin therapy for adults with diabetes. The V-Go provides a continuous preset basal rate of insulin and allows for on-demand bolus dosing around mealtimes thereby providing an alternative to taking multiple daily insulin injections.
The V-Go is engineered to simplify basal-bolus insulin therapy for the millions of people suffering from Type 2 diabetes. The V-Go is small, lightweight, and worn under the patients clothing. It measures just 2.4 x 1.3 x 0.5 inches and weighs approximately 1 ounce when filled with insulin. Patients apply a new V-Go to the skin daily for one 24-hour period. The V-Go is not electronic, making it easy to operate and use.
The V-Go is for the continuous subcutaneous delivery of insulin in preset basal rates and with on-demand bolus dosing for adult patients req uiring insulin. V-Go devices will be available in a preset basal rate to deliver 20, 30, or 40 Units of insulin in one 24-hour period (0.83 U/hr, 1.25 U/hr or 1.67 U/hr, respectively) and on-demand bolus dosing in 2 Unit increments (up to 36 Units per one 24-hour time period). The V-Go offers a simple way to deliver basal-bolus therapy.
A variety of easy-to-use V-GoTM training guides and resources. These training materials:
Help ensure that you use the V-GoTM safely and correctly
Show you how easy the V-GoTM is to fill, apply, and use every day
Supplement in-person training from your healthcare team, which is ke y to your successful experience with the V-GoTM
Training will reinforce tips for safety and success with the V-GoTM , such as:
Not taking any other insulin shots with the V-GoTM
Choosing the proper locations on your body to place the V-GoTM
Checking your blood glucose at regular intervals
Using the four buttons on the V-GoTM
Replacing the V-GoTM after a full 24 hours of use with a new filled V- GoTM
For additional training resources click here
Features
The V-Go offers many benefits to adults with Type 2 diabetes, including convenient mealtime bolus dosing while maintaining a continuous preset basal rate of insulin:
Uses one fast-acting insulin (Humalog® or NovoLog®)*
No extra needles, supplies, syringes, or pens to carry for delivering your mealtime bolus dose
Continues to work while you shower,† sweat, or sleep, so you can go about daily routines and activities with confidence
No need to plan your meals on an insulin schedule for mealtime bolus dosing
The V-Go buttons can be pressed through your clothes
Flexibility to choose a new V-Go application site every 24 hours to work with your clothing
You may achieve blood sugar control with a continuous preset basal rate of insulin and on-demand mealtime bolus dosing
*A U-100 fast-acting insulin should be used with the V-Go. Humalog® (insulin lispro, rDNA origin) and NovoLog® (insulin aspart, rDNA origin) have been tested by Valeritas, Inc. and found to be safe for use in the V-Go Disposable Insulin Delivery Device.
†The V-Go has been successfully tested in water to depths of 3 feet, 3 inches (1 meter) for 24 hours, and therefore can be worn during normal daily activities, such as showering and bathing as well as activities near the surface of the water, such as swimming.