PRECISION XTRA BLOOD GLUCOSE MONITOR KIT-(NFR) EA
Preferred Product
Over-the-Counter
Click image to enlarge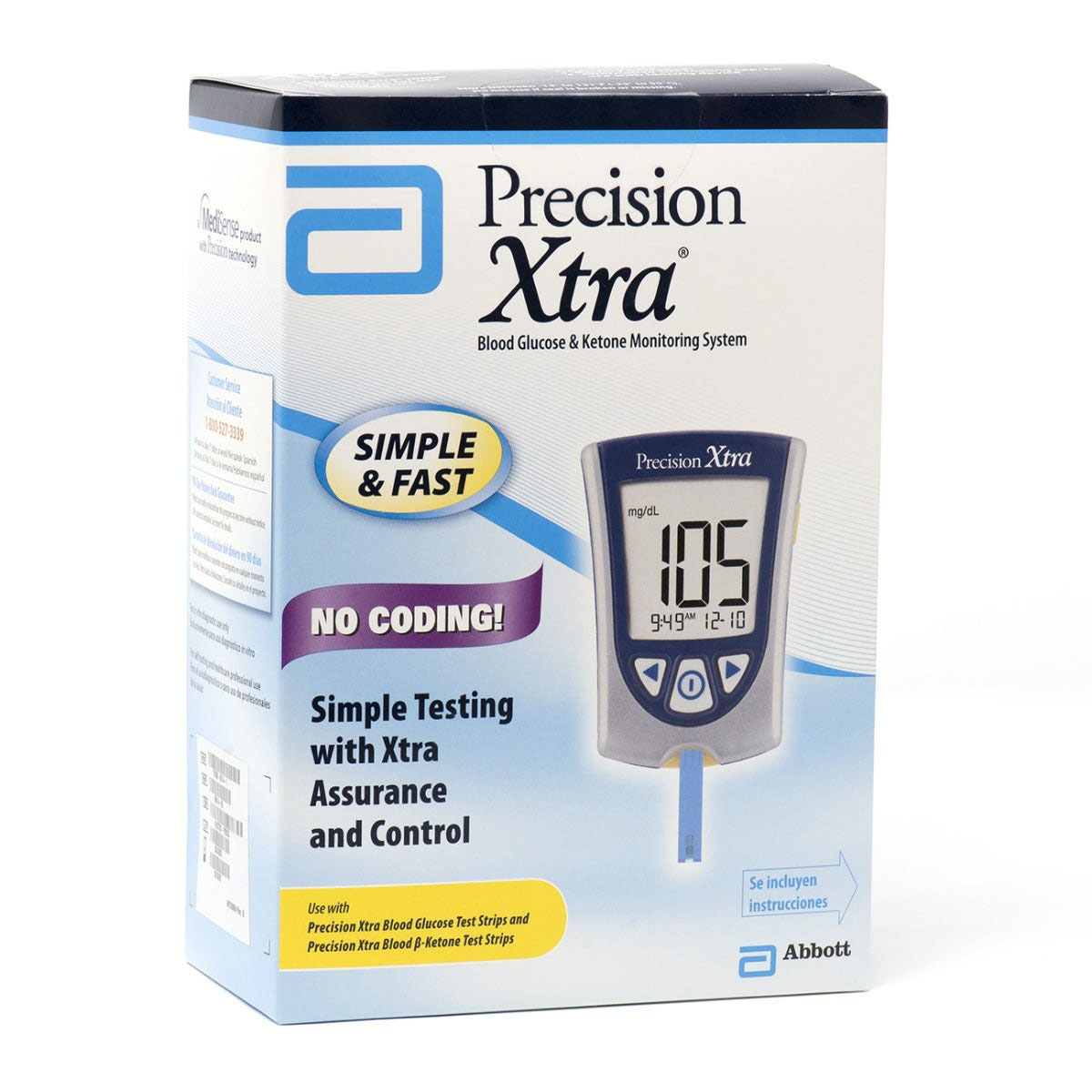 Description
The Precision Xtra Blood Glucose & Ketone Monitoring System was designed for easy, stress-free testing. Intuitive setup, simple icon-driven menus, and automatically minimize the hassle from blood glucose monitoring. In addition, the Precision Xtra meter is the only leading system on the market with the technology to test blood sugar AND ketone—all with the same meter and test strips.
The Precision Xtra Blood Glucose and Ketone Monitoring System provides simple, everyday testing, with a sample size of 0.6 microliters and a fast , 5-second test time. The Precision Xtra system features a specially designed end-fill/top-fill test strip with visual confirmation, which makes sample application simpler and more flexible for blood glucose testing. The Precision Xtra blood glucose test strip also minimizes the effects of interfering agents such as aspirin, vitamin C, and acetaminophen. Plus, the Precision Xtra system offers the simplicity of blood ketone testing in the same meter.
Patented Precision® SmartChip Technology provides simple auto calibration, easy upgrades, and more
Reprograms the Precision Xtra meter for upgrades to new strip technology
Get the latest technology without switching meters – no need to retra in
Designed to prevent use of expired test strips
Simple blood application
Accurate and reliable, every day with TrueMeasure® Technology
Unique chemistry minimizes the effects of interfering substances
Fill-trigger—designed to prevent test from starting until an adequate blood sample is present, minimizing error messages and repeat tests
Features
Measure blood glucose and blood ketone levels. TrueMeasure technology minimizes effects of agents like Tylenol, Vitamin C, and uric acid for glucose specific results. 2-step testing; end-fill/top-fill design; downloadable 450-event test memory; large backlit display. New blood glucose strip requires 0.6-microliter blood sample and provides results in 5 seconds.
Warranty Information
Lifetime
Included In Kit
Meter, Lancing Device, 10 Lancets, Quick Reference Guide, User's Manual, Log Book and Carrying Case
Simple 2-Step Testing
Insert strip, add blood, and test begins
Simple Icon-Driven Menu
Reduces communication barriers
Simple-to-Use Buttons
Easy setup and result review—with ability to scroll back and forth
No Manual Coding
Simply insert calibrator with SmartChip Technology into strip port
Glucose: Fast 5-second test time and small 0.6 microliter sample site and Ketone: 3 times faster than before and 70% less blood