ELECTRIC BREAST PUMP KITS BY MEDLINE, 1 EACH
New Product
Over-the-Counter
Click image to enlarge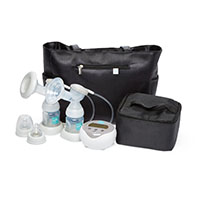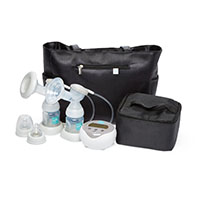 Lightweight, portable pump with single and double pumping capability has quiet pump motor and 100% anti-backflow design to eliminate wasted milk.Nine suction modes (four stimulatio
Large LCD screen keeps you in control by showing suction level, mode, timing and more; battery power option allows for flexibility in case you're not near an outlet.
Pump automatically cycles through first five suction modes, however you can override the automatic expression settings and increase/decrease suction at any time
9V AC adaptor or can take 4 AA batteries( not included )
Kit includes: electric double pump, (2) 24mm breast shields w/ silicone insert,(2) nipple with collar, (2) pump caps, (4) 5 oz. bottles, (4) bottle caps, (2) bottle stands, cooler.