Diabetes Health Improvement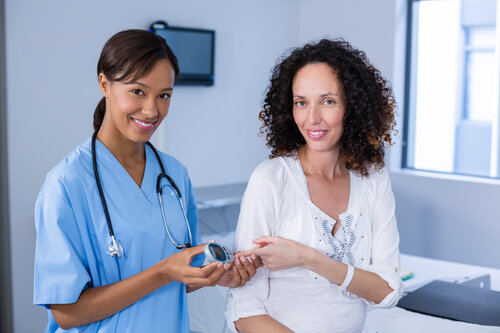 Our Diabetes Health Improvement Program offers top brand diabetes medical supplies and equipment, coupled with educational materials and clinical support. Our program includes access to our dedicated Diabetes Technology Group (DTG) to complement what your members' provider has prescribed and assist your members on their healthcare journey. Many products from our diabetes line of products such as Blood Glucose Meters, Continuous Glucose Monitors, Insulin Pump Therapy Systems, and Diabetes Accessories such as alcohol wipes, adhesives, and more. Many of these products may be covered by your insurance plan and are always available to your member's at our discounted retail price. Our Insurance Verification Department will work diligently with your insurance plan, whether it's commercial, Medicare, and/or Medicaid to ensure your members' orders are shipped with minimal to no out-of-pocket expense.
We want you to know that we care about your members' diabetes self-management routine and are here to provide them with exceptional service, knowledge, and 1-2 shipping times for the products they need.
Program Features:
Personalized Service and Support: Our Certified Diabetes Care and Education Specialist (CDCES), Dietitian, and specialized Care Coordinators are always available for any questions your members' may have about their health concerns and product usage. We make it our obligation to prioritize their well-being, so we follow-up to assist with their chosen supplies or medical equipment.
Fast and Discreet Delivery of All Their Medical Supplies
Health Education and Support
Refill Reminder Service
Most Major Medical and Pharmacy Insurance Plans Accepted
Extensive Line of Healthcare Supplies: Better Living Now has a constantly growing catalog of chronic condition medical supplies and breast pumps to meet a variety of needs. We carry supplies to help your members with their Diabetes, Ostomy, Urological, Incontinence and Breastfeeding needs.
When Enrolled Via Our Website, Your Members Get:
Access to their account history and reorder any supplies with a click of a button.
Access and update their customer profile, including insurance information.
Access extensive educational materials via our health education site
Bill covered health care products directly to their insurance.
Buy non-covered health care products at discounted retail prices.
Receive emails from Better Living Now to stay in the know for order confirmations, "Refill Reminders", quarterly sales and specials, upcoming events, classes and more.
Quarterly seasonal newsletters focusing on people living with diabetes included in new shipments.