SAFE-T-SPORT® LATERAL KNEE STABILIZER, RIGHT, MEDIUM, BLACK
Featured Product
Over-the-Counter
Click image to enlarge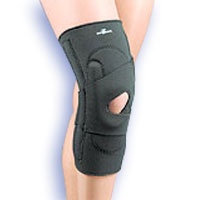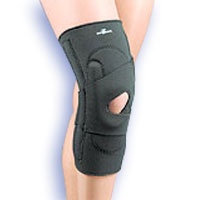 Description
The Lateral Knee Stabilizer provides excellent side-to-side support of the knee and stabilization of the kneecap. The tubular "J" shaped buttress maintains proper alignment of the patella and provides lateral side support and stabilization. Flexible spiral stays provide medial and lateral stability while maintaining full range of motion. It is constructed of sports neoprene with a soft long-loop nylon lining for therapeutic and warmth. The adjustable support straps provide an adjustable amount of compression and increased stability. It's a seamless feel in a tapered sleeve, slip-on style. For correct sizing, it measures 4 inches above the center of the right or left kneecap.
Maintains proper alignment of knee, Easy slip-on style with adjustable compression straps
J-shaped buttress for lateral patella support and stabilization
Stabilizes with complete range of motion
Requirement: Must Specify Right or Left Knee
Size: Medium, Fits: Thigh 16 - 17"