CUTIES® BABY DIAPER, 41+ LBS, SIZE 7, 20/PACK
Over-the-Counter
Click image to enlarge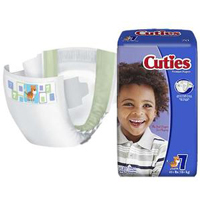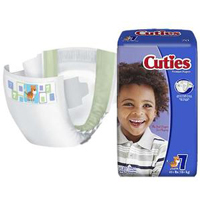 Description
Cuties® disposable Baby Diapers feature an ultra-absorbent core to combat leakage and are made with hypoallergenic materials to minimize an allergic reaction. The soft breathable outer diaper fabric reduces the risk of skin irritation on baby's sensitive skin. There are ventilated areas that allow air to freely pass to baby's skin which helps reduce heat build-up. Customized fit with adjustable grip tabs ensures a snug waistline.
Excellent leakage protection.
Cottony soft materials.
Soft stretchable waist and side panels.
Hypoallergenic extra soft liner with natural botanicals, Vitamin E and Aloe.
Made in the USA.
Comments
As announced in the June 2016 Medicaid Update, beginning September 1, 2016, all adult and youth sized diapers dispensed to all Medicaid enrollees must meet minimum product specifications established by the Department of Health: 
No plastic (non-breathable) backed products;

Rewet rate of <2.0g;

Rate of Acquisition (ROA) of <60 seconds;

Retention capacity of >250 g;

Presence of breathable zones with a minimum value of >100 cubic feet per minute (cfm);

Presence of a closure system which allows for multiple fastening and unfastening occurrences.