REPLACEMENT MONITOR FOR GUARDIAN® UNIT
Prescription Required
Click image to enlarge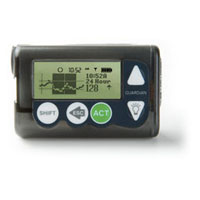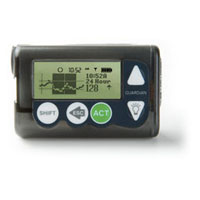 Description
The monitor has a display window that shows you the glucose readings every 5 minutes. It also can be programmed to sound an alarm, or vibrate, if the Bg level goes to high or to low. It needs to be calibrated on a daily basis, which you do by entering in the results of at least two finger prick readings - seems like we will never get away from these.
Unlike the transmitter the monitor is not waterproof but it will still pick up as long as it is within 6 feet of the transmitter.
The monitor will also store up to 21 da ys worth of data, which you can download to your computer using the appropriate software.
It is not affected by motion, sweat or temperature so can be worn during exercise.
You can also enter such facts as your amount of exercise, how much insulin you injected and what your carb intake is, into the monitor and this will appear on the final analy sis report.