GUARDIAN® RT BLOOD GLUCOSE MONITORING SYSTEM STARTER KIT
Prescription Required
Click image to enlarge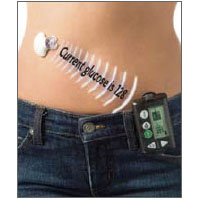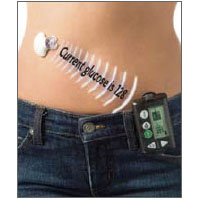 Description
REAL-Time display
The Guardian REAL-Time System display gives you added protection and confidence, 24 hours a day.
With the Guardian REAL-Time Sy stem, an amazing amount of information is right there on your monitor.
REAL-Time Alerts
Three different kinds of alerts give you time to avoid or mi nimize oncoming highs and lows.
REAL-Time Continuous Glucose Readings
When you can read your current glucose level any time of day or night, you won 't be surprised by a sudden low or high.
REAL-Time Trend Graphs
Seeing a graph of your glucose levels over the last 3, 6, 12, or 24 hours lets you i dentify patterns and fine-tune your diabetes management accordingly.
REAL-Time Trend Arrows
When your glucose levels start changing in a hurry, thes e arrows show you the direction and rate of change, which helps you anticipate and react to the changes.
MiniLink REAL-Time Transmitter
The MiniLink REAL-Time Transmitter is exceptionally comfortable because it is small, lightweight, ergonomically shaped, and designed to minimize skin irritation. An ultra-sleek, thin profile allows the MiniLink REAL-Time Transmitter to lay flat without a bulge.
Small and thin profile (approximately 1/3 of an inch thick) — easy to hide under clothing.
Wireless — provides flexibility for placement in different locations on the body.
Waterproof — can be worn while swimming*, bathing, or showering without worries
ul>* Can be worn to a depth of 8 feet for 30 minutes

Better control with CareLink Personal software
Web-based tools enable you to capture contin uous glucose monitoring data and logbook entries online, and download easy-to-read charts, graphs, and tables. You and your healthcare provider can use these reports to discover patterns, problems, and insights not possible with fingerstick testing and logbooks. These insights can allow your healthcare provider to make therapy adjustments that can lead to better management of your diabetes. The reports can also help you identify opportunities for lifestyle changes that can improve control of your glucose levels.

Expr ess yourself with Medtronic "Skins"
You can enhance the look of your Guardian REAL-Time System with "skins" — replaceable vinyl covers for your monitor that are a fun and exciting way to express your own style. Each high quality vinyl skin has an adhesive side, allowing you to easily apply the skin to your Guardian REAL-Time System monitor.

Warranty Information

See User Manual

Included In Kit

Monitor, Transmitter, Charger, Tester, Plus Four (4) Sensors
REAL-Time display gives you continuous awareness of your current glucose levels.
3 layers of protection give you added peace of mind and confidence.
Get a higher level of protection from dangerous highs and lows than fingerstick testing alone.
Comfortable, compact, easy-to-use design won't cramp your style.
An ideal partner to help you manage your diabetes.