SURE-LANCE™ STANDARD LANCET, 26G, 100CT-WHITE
Clearance Product
Over-the-Counter
Click image to enlarge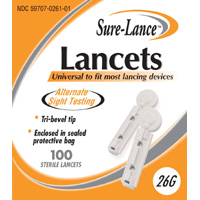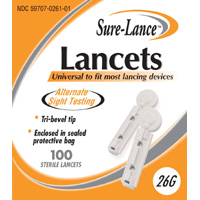 Directions

Do not use if safety seal has been broken.
Was hands with soap and warm water. Dry thoroughly.
Select fingertip site, slightly off-center.
Remove protective lancet cover. Twist and pull cap. Discard if already open.
Insert lancet into lancing device, use to puncture skin.
Apply drop of blood to the test strip, wipe excess from finger.
recap lancet, discard in appropriate container.
Ultra Thin Design
Ultra Fine Tri-Bevel Tip
Enclosed in Sealed Protective Bag
Universal design Fits Almost All Devices
Easy Twist and Pull Cap