UNI-SOLVE ADHESIVE REMOVER, 8 OZ. BOTTLE
Over-the-Counter
Click image to enlarge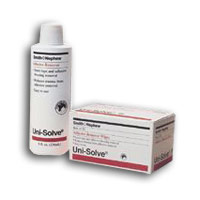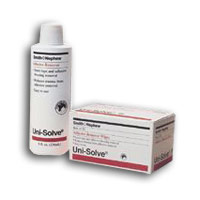 Description
Uni-Solve Adhesive Remover is formulated to reduce adhesive trauma to the skin by thoroughly dissolving dressing tape and appliance adhesives. It is ideal for removing acrylic-based, rubber-based, and hydrocolloid-based residues from the skin.
Warnings and Precautions
Use only as directed. For external use only. Avoid contact with eyes. Vapour may be harmful - use with adequate ventilation. Flammable. Do not use near heat, sparks or open flame. Keep out of reach of children. Avoid contact with painted/finished surfaces. Do not apply to open wounds or mucous membranes.
Indicated for the removal of adhesive devices
Indicated for the removal of adhesive residue from skin
Softens adhesive on tapes, films and appliances thereby minimizing trauma caused by adhesive removal