OPSITE TRANSPARENT ADHESIVE DRESSING, 11" X 11-3/4", 10/BX
Over-the-Counter
Click image to enlarge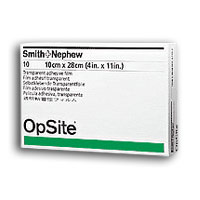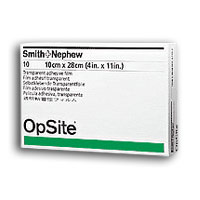 Description
OPSITE TRANSPARENT ADHESIVE DRESSING - is a transparent polyurethane membrane which creates a moist environment by trapping the wound exudate. The film is moisture vapor permeable, conformable and extensible. It is widely used to provide a moist wound environment for superficial wounds and it is also ideal for use as a secondary dressing.
Warnings and Precautions
OPSITE: may be used on clinically infected wounds if the following precautions are followed:

The patient should be under medical/clinical supervision
The dressing should be changed daily
The patient should be receiving suitable systemic treatment
Immuno-compromised patients and diabetic patients may require extra supervision. Care should be taken to avoid skin damage by repeated applications on patients with thin or fragile skin.
In common with all adhesive products, some cases of irritation and/or maceration of the skin surrounding the wound have been reported. It should be noted that inappropriate use or too frequent dressing changes, particularly in patients with fragile skin, can result in skin stripping.
Superior film with acrylic adhesive
Waterproof film and it's adaptable to awkward areas
Simple, effective application technique
Provides moisture vapor permeability allowing excess exudate to evaporate, helping prevent skin maceration
Sets the standard in moist wound care by retaining the natural wound exudate