CUNNINGHAM PENILE INCONTINENCE CLAMP, SMALL, 1-1/2", 1-EACH
Preferred Product
Over-the-Counter
Click image to enlarge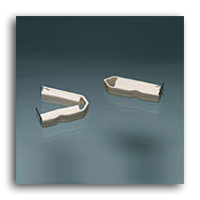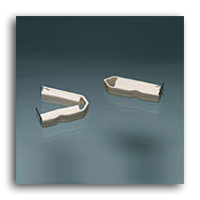 Description
Used to control stress incontinence or dribbling of urine. Constructed of soft sponge rubber and can be adjusted to fit comfortably.

To urinate simply release the clamp and spontaneously urinate, or if you self-cath, release the clamp and follow your normal self-cath procedure. After completion, replace the clamp to control dribbling. Many users buy two or three Cunningham Clamps. One to wear while washing the other, and a spare just in case you lose one. The Cunningham Clamp may be worn throughout the day releasing in between urinations.

The exact adjustment of pressure is achieved by the ratchet catch on the regular and large sizes and the adjustable snap button on the juvenile size. To release the catch on the regular and large sizes, press inward on both the spring wire loops.
Non-sterile and its Reusable
A very light pressure on the urethral canal on the underside of the penis will prevent any leakage
The necessary pressure is achieved by the hump in the under part of the Cunningham Clamp
For proper fit and comfort, the upper part of the Cunningham Clamp can be easily shaped by the fingers
Make sure that the Clamp is not set tightly so that it will interfere with the blood circulation