BATTERY EVEREADY, WATCH, 3V LITHIUM BUTTON CELL, 1/EACH
Over-the-Counter
Click image to enlarge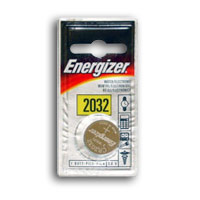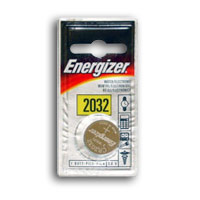 Description
The Energizer 2032. Used in heart-rate monitors, keyless entry, glucose monitors, toys & games.
Warnings and Precautions
KEEP OUT OF REACH OF CHILDREN. Swallowing may lead to serious injury or death in as little as 2 hours due to chemical burns and potential perforation of the esophagus.Immediately see doctor, have doctor phone (202) 625-3333. Keep in original package until ready to use. Dispose of used batteries immediately. (2) Risk of injury due to fire, explosion or leakage. Do not disassemble, charge, crush or expose to fire or high temperatures.
Important: Coin Lithium batteries are not interchangeable. Both the diameter and thickness can vary based on the cell designation. While some device battery compartments may be sized in a way that different battery types can fit in the compartment, the capacities will vary by size.
Holds power for 8 years in storage
Cell size: 2032
Type: Lithium Coin
Volt: 3
Replacement for: 5004LC, BR2032, DL2032, ECR2032, ST-T15